How would it feel to know exactly what you need to do to build a better business in 2017?
How The Maker's Yearbook will help you.
CELEBRATE + LEARN FROM 2016
You've got to look back to know what's holding you back.
Look at what went well and what didn't.
Look at where you got it right and where you got off track.
Look at how many customers you have and how much money you made.
Celebrate another spin around the sun and gather the lessons from 2016.
Set out your business vision for 2017.
Dream big and then plan it out.
Your money, your marketing, your creativity, your health and happiness.
What do you want and what do you need to do to get it?
Plan out an entire year of blog posts and email marketing campaigns
MONTHLY REVIEW + ACTION PLAN
Stay on track every month.
Review what's working and what's not working.
Look at how your products are performing and how much profit you're making.
Record the number of customers you're added and what you've learned about them.
Recognise how far you've come, learn what you can apply going forward & decide what you don't want to do any more.
If it doesn't have a deadline, it's a wish not a goal.
Weekly and Monthly Spreads
Space for your to-do list & your appointments
Write out your goals every week to stay focused.
Reminders to do something just for you every week.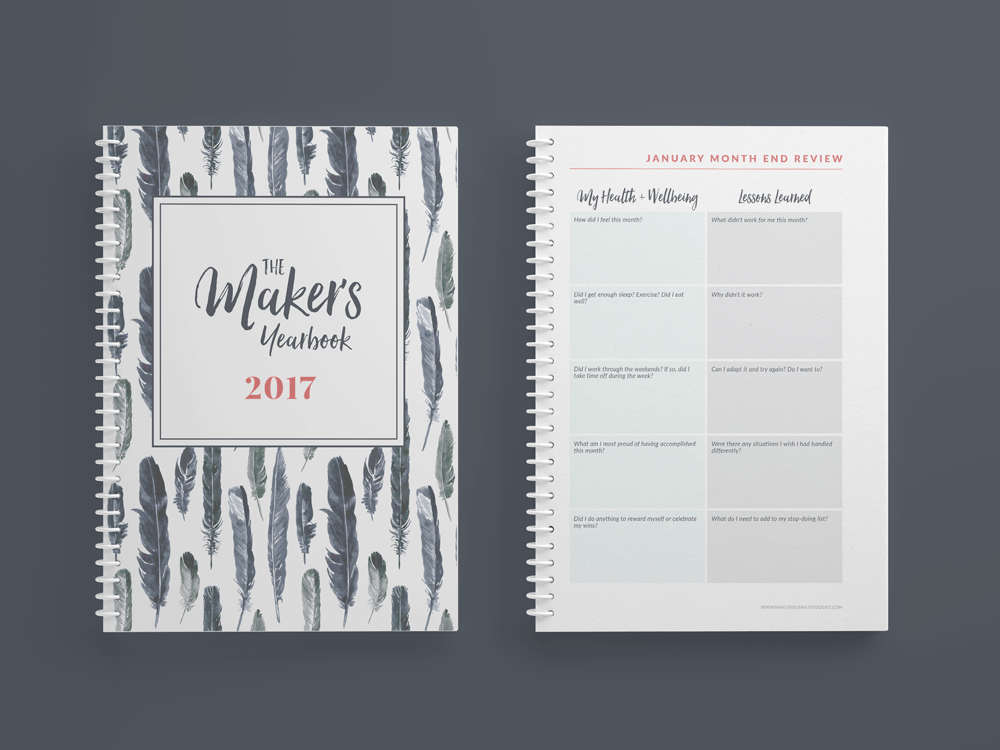 A 200 page goal setting & productivity workbook and 2017 planner designed especially for Artists, Crafters & Designer-Makers
A comprehensive review of 2016 so you can get clear on everything you learned and everything that challenged you.
Goal setting worksheets for 2017
A monthly review that focuses on your sales, your customers & your wellbeing.
A monthly action plan that keeps you focused on the most important things.
A full 2017 planner with monthly and weekly spreads.
12 monthly challenges, delivered via a private Facebook group, to give you support and accountability
Choice of digital download or printed version.
CHALLENGE YOURSELF IN 2017
There will be extra support and an opportunity to meet other makers in our Maker's Yearbook Support Group on Facebook. This is a private community for us to help each other and work together to make 2017 a success. Each month I'll set you a different
Each month I'll set you a different five day challenge, which will include video trainings and a set of challenge tasks that will help you to break the job down into small pieces so that you can fit it in and start benefitting from the results.
We'll cover the things that are important but can often get pushed to the bottom of your to-do list. You can join in live if you want. You can sit back and observe if you want. You can cheer on your fellow makers (and I hope that you will!) But the most important thing is that together we will make progress on some of those important business fundamentals that can fall through the cracks when
JANUARY: Conquering Overwhelm
FEBRUARY: Approaching potential new stockists for your work
MARCH: Planning your Christmas line or your new products for 2017
APRIL: Totally non-scary Facebook Advertising.
MAY: Email Marketing Basics.
JUNE: Pitching your Christmas designs to your favourite magazines.
JULY: Pitching your Christmas designs to new & existing stockists.
AUGUST: Tidy up and refresh you online stores & marketplaces
SEPTEMBER: Running promotions on Facebook.
OCTOBER: Your Festive Season Personal Care Plan.
NOVEMBER: Revisit your Terms & Conditions.
DECEMBER: Building Your Brand Map.
You'll also get monthly emails (if you want them) to remind you to do your month end review and fill in your action plan. Perfect for you if you've ever filled in your planner, then stuck it in a drawer and forgotten all about it. I won't let you do that!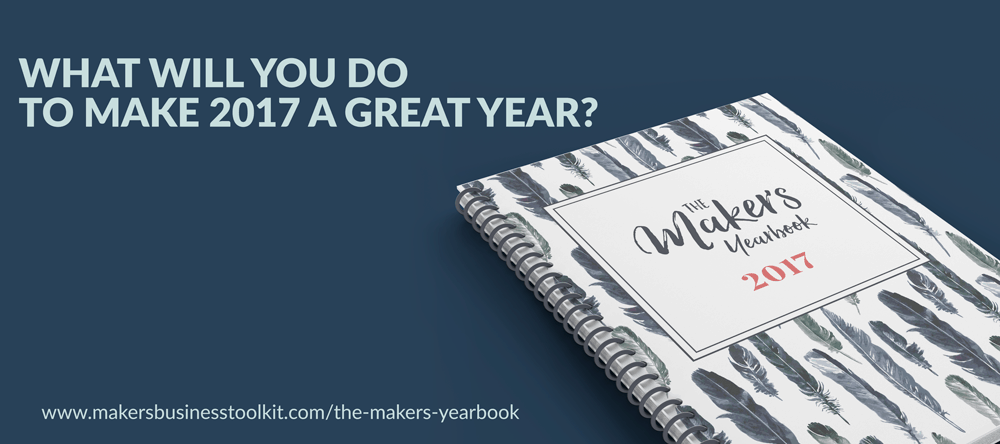 Who is The Maker's Yearbook For?
The Maker's Yearbook is designed for tiny businesses who sell physical products.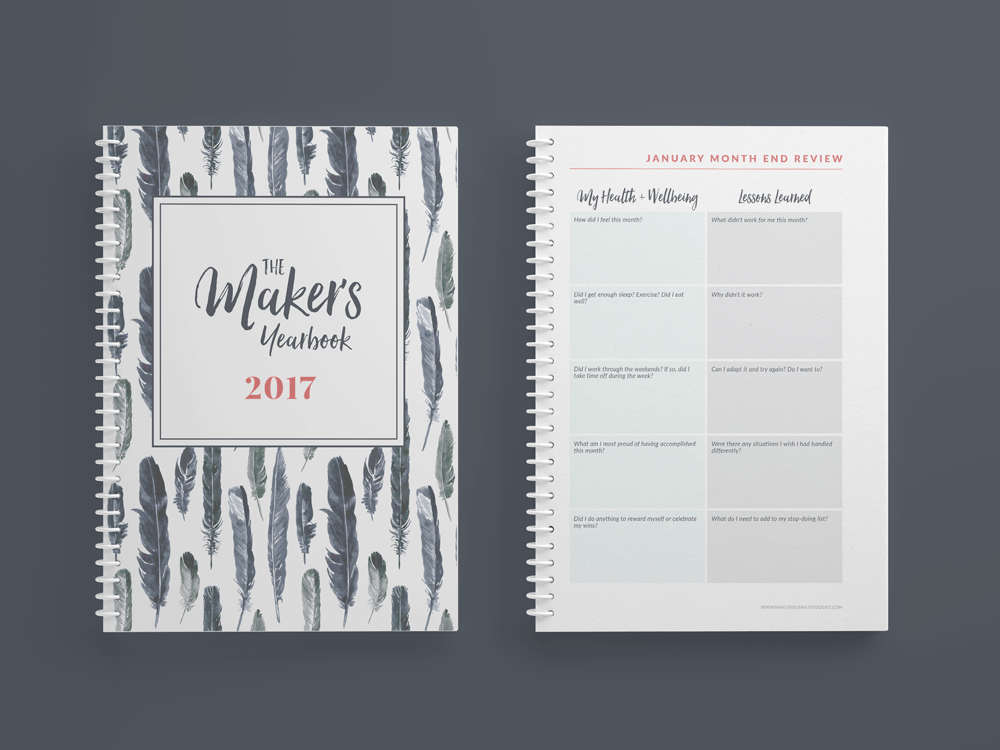 You might be an Artist, a Crafter or a Designer Maker.
You might be a Candle Maker, a Muffin Baker or a Creator of Fabulous Condiments.
You might be a Knitter, a Jeweller or an Illustrator.
You might be a Photographer who sells physical products … like me!
You might do a few (or a lot) of these things. Or you might make something else. You might even sell things you don't make yourself.
My name is Nicola Taylor. I'm a fine art photographer, a maker, the founder of The Maker's Business Toolkit blog and the creator of The Maker's Yearbook.
I run my business on my own, just like many of you, and I've got a lot on my plate, just like many of you.
I made The Maker's Yearbook initially for myself, because I found that the more busy my business became, the less time I spent on the small things that are easily forgotten, but that keep my sales (and my income) consistent. Things like email marketing, spending time designing new products, creating new collections of work and updating my online store.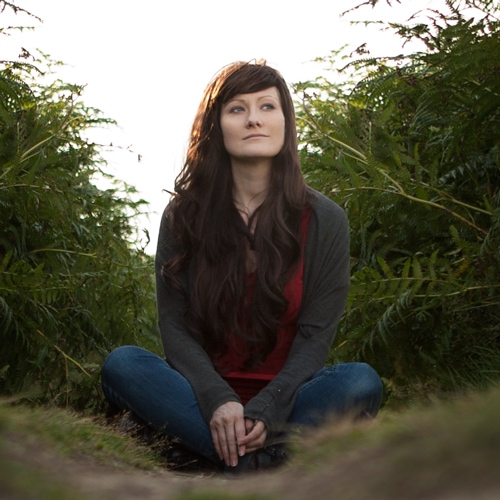 And I spent even less time on the small things that keep me sane. Things like taking weekends off, spending time with friends and family and getting outside once in a while.
I felt like my business had got completely out of control and that I was constantly running to catch up with it. I was just reacting to things that happened, rather than creating a business that worked for me and the kind of life I want to lead.
And it didn't matter how many goals I set or how many vision boards I made. As soon as things got busy, I put it all on hold and got back on the treadmill again.
So I needed a system to make sure I remembered to work on achieving my goals, whether I was feeling stressed out in a busy month or discouraged in a slow month.
The Maker's Yearbook has given me more focus and more clarity and helped me to get more done. I hope it can do the same for you.
www.nicolataylorphotographer.com www.makersbusinesstoolkit.com
The Maker's Yearbook has been completely redesigned for 2017 with a new, minimal design.
We're crowdfunding a paper version
In 2016 The Maker's Yearbook was available only as a digital download. This year, we're crowdfunding an A4 printed version and you can help us to reach our funding goal by preordering below.
More print-friendly digital version
The digital version is now lighter on printer ink and will be delivered in several sections so that you can print out the sections you need, as and when you need them.
A New Section on Customers
Understand what customers are thinking about during each month of the year, so that you can plan your marketing and product launches to reach them at exactly the right moment.
All of the challenges are brand new and they have been expanded considerably, so that you get more materials
The challenges will also be hosted inside a private Facebook Group this year. We'll complete them together and get lots of support and encouragement from each other.
The Maker's Yearbook is now over 200 pages, including a full 2017 planner with monthly and weekly spreads.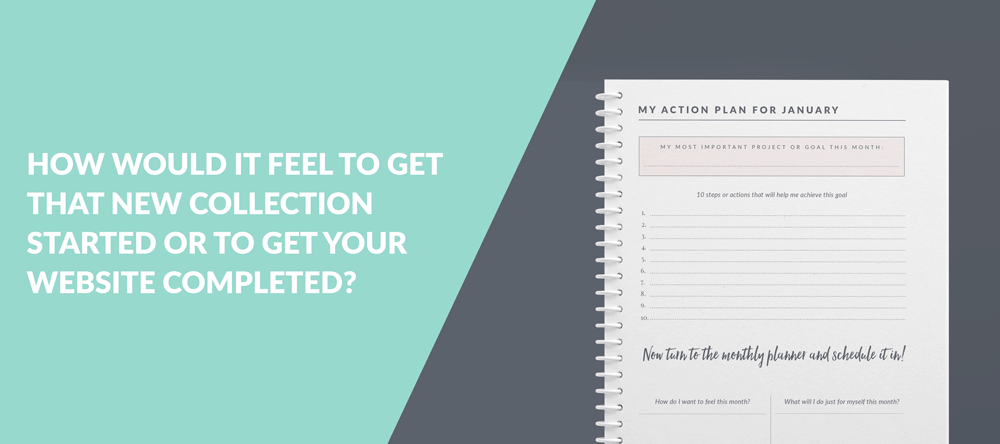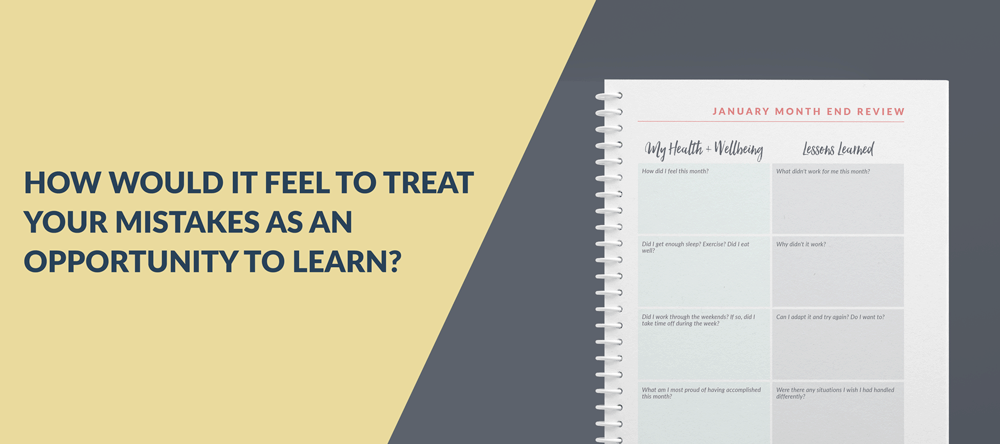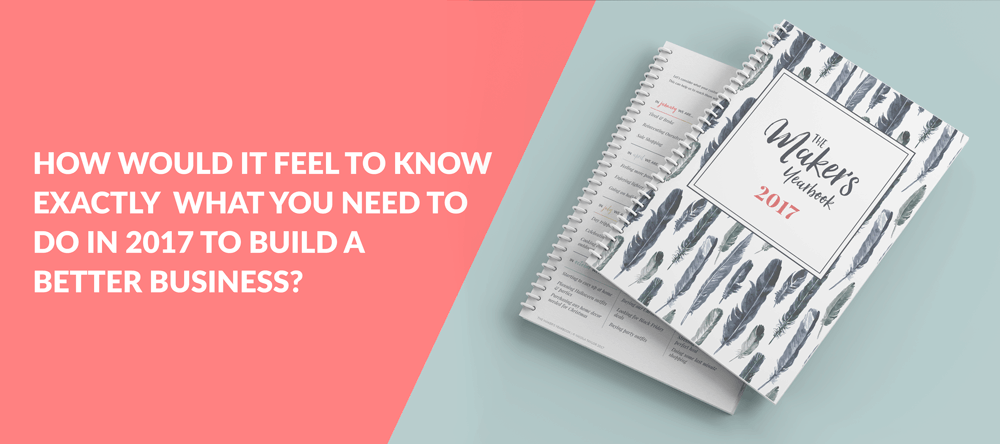 Choose your version of The Maker's Yearbook
The Digital Version £15 GBP
(Approx $19 USD, 17 EUR, $25 AUD, $25 CAD) Please note these figures are only a guide and you will be charged in GBP at the current exchange rate.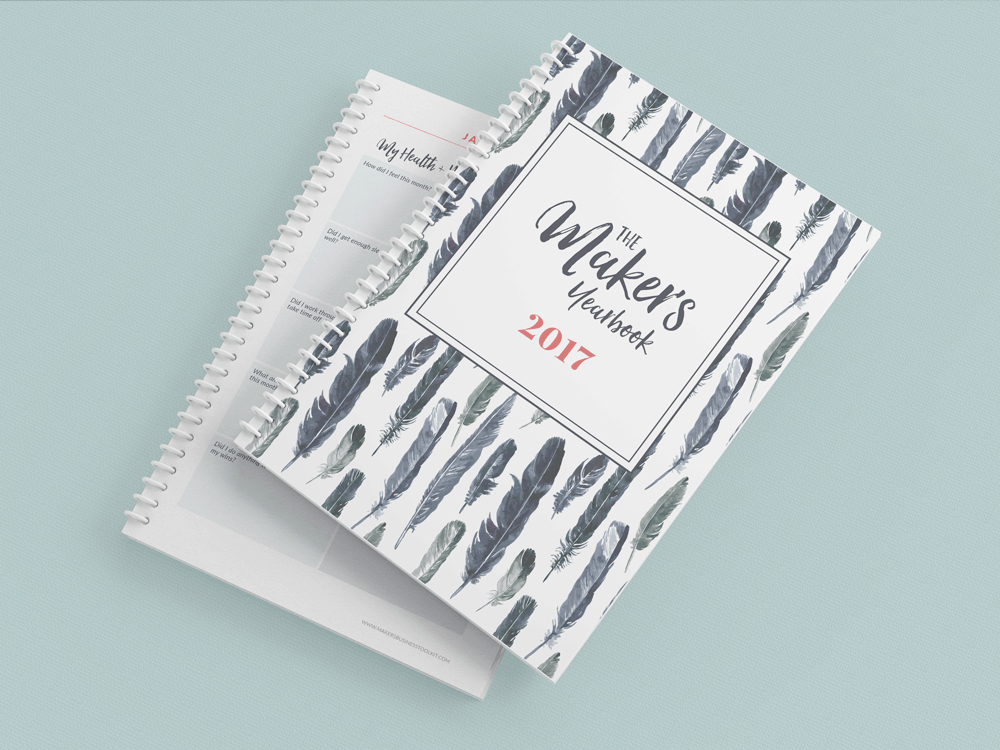 The digital version of The Maker's Yearbook is delivered to you as a pdf document and no physical product will be shipped to you.
You can either print it out and fill it in, or you can complete it on your computer. I like to print mine out and spiral bind it so I can refer to it throughout the year.
Print it out all at once, or use the split files we send you to print out portions of the book as and when you need them.
You will need a pdf viewer such as Adobe Acrobat or Preview to view the document.
Once you have completed your payment, you will be emailed a link to download the workbook.
If you are based in the EU (excluding the UK), you will be charged VAT on your purchase at checkout.
IMPORTANT: AS A DIGITAL DOWNLOAD, THIS PURCHASE IS FINAL AND NON-REFUNDABLE SO PLEASE MAKE SURE THE MAKER'S YEARBOOK IS RIGHT FOR YOU BEFORE PURCHASING.
If you have further questions or need support, please email us at [email protected]
The print version of The Maker's Yearbook is now sold out.
We have a small number of slight seconds available for £19 + p&p. These books have slight damage to the front cover or slight curving of the pages. The content inside is the same. To order your copy, please click below.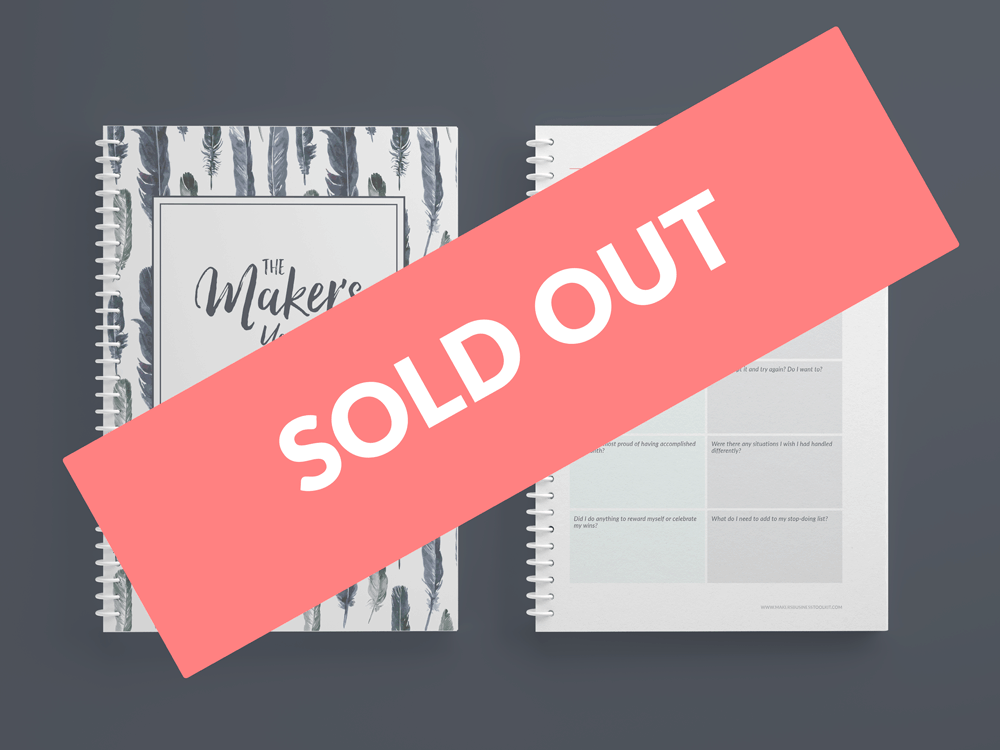 Delivery Costs
Delivery charges for the printed version of The Maker's Yearbook are as follows: For customers based in the UK: £2.50 for the first item and £1.00 for each additional item. For customers based in Europe: £9.00 for the first item and £6.00 for each additional item. For customers based in the USA & Canada £13.50 for the first item and £7.00 for each additional item. For customers based in Australia & New Zealand £14.50 for the first item and £8.00 for each additional item.
Returns Information
Under UK consumer law you have 14 days from receipt of the printed version of The Maker's Yearbook to change your mind. For a refund you must return the planner in its unused, saleable condition to: Nicola Taylor 33 Roseberry Road Great Ayton North Yorkshire TS9 6EH Once we receive the planner, we will issue a refund for the price paid and the original shipping costs. Please obtain proof of postage as this will be required for a refund if your planner is lost while in transit to us. If you return goods to us without including a note or your order number we may fund it difficult to match the goods with your order and your refund may be delayed. Refunds will include the original postage cost but the customer will pay the cost of returning the planner to us. The Digital version of The Maker's Yearbook is non refundable once the files have been downloaded. For assistance, please email [email protected]